Eaton Leonard – are you familiar with this name ? Founded in 1973 in California by Homer Eaton and Leonard Zerlaut, Eaton Leonard today has become an internationally renowned brand in the field of tube bending and 3D measurement control. With many years of experience, Eaton Leonard, now part of the Numalliance group, has many technological innovations to its credit.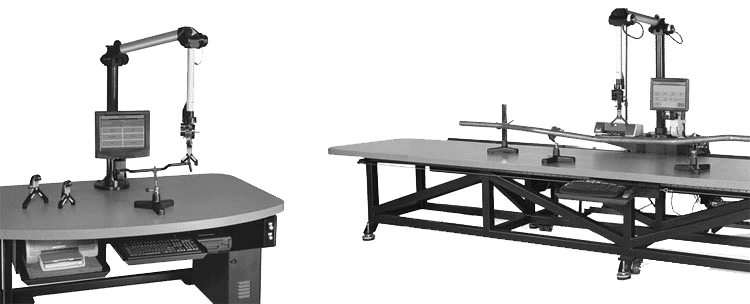 The Vector 1 Tube Data Center, a revolution for the tube bending industry
Did you know ? The Vector 1 Tube Data Center was the first ever measurement system that could be connected to a tube bender to allow electronic digitalization and recording of the bent tube dimensional data. This system, patented by Eaton Leonard, revolutionized the tube bending industry by defining a tube form as a series of intersecting vectors while allowing automatic correction during the bending process, and thus producing tube forms with higher accuracy.
A technical revolution ? Not only, the Vector 1 and its evolutions made it possible to eliminate the many hours that were spent studying the data of the tube dimensions as well as those spent taking measurements.
More efficient than ever, the Vector 1 – now renamed VMS (Vector Measuring System) – has further evolved as new functions have been added thanks to the latest technological advances.
Today, it can measure the tube forms prior to production to determine the exact measurements in case they are unknown. This is uge time saving enabling quick start of production.
High-performance and innovative tube benders
Eaton Leonard, the multi-skilled brand also markets CNC tube benders, providing a complete productivity solution that is closed loop between the bender and the tube measurement system.
Many patents have been filed pertaining to the innovative tube bending techniques developed by Eaton Leonard. Among these innovations, particularly noted is the creation of Vector Pipeline, a method of rotating the bending tool around the tube allowing successive bends while avoiding slippage of the collet unlike on conventional machines. Vector Pipeline is the only system to combine a tube mill with the bender and cut-off on one machine.
The continuous innovations introduced by Eaton Leonard have made it possible to obtain ever more efficient, cutting-edge technology machines. This is the case of the VB tube bender range. The VB line of benders are Eaton Leonard's flagship products, recognized worldwide in many sectors such as the automotive and aeronautics for its ability to bend a wide range diameters from 3 to 152mm. Optimized in 2020 with changeover to the latest generation motors and drives, as well as our "Touch & Form" CNC control, these benders are now always more efficient, innovative and above all durable thanks to standardization with Numalliance systems.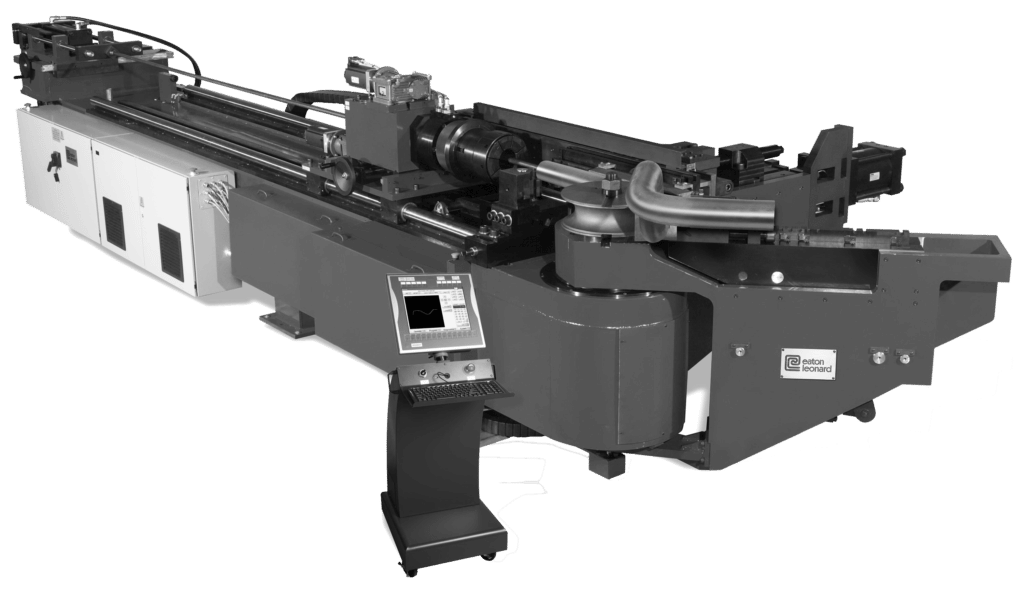 The Numalliance adventure
What became of Eaton Leonard ? The famous American brand, along with AddisonMcKee, became part of Numalliance in 2020. Numalliance has become recognized as an international union of advanced CNC machines, tooling and automated solutions for bending, forming and cutting metal wire, tube and flat stock.
The development of Numalliance through this merger confirms the group's philosophy, which is based particularly on the integration of complementary brands and technologies to offer complete solutions to its customers, thus meeting all their needs. This also makes it possible to strengthen customer proximity with the development of a global network of sales representatives and technicians thanks to two new sites in the United States and Mexico, dedicated to the manufacture of machines and tools. This merger also made it possible to consolidate the group's R&D and engineering departments, to work on numerous innovations for this year and the years to come and thus to remain at the cutting edge of technology, particularly in terms of Industry 4.0.