Stay informed about Numalliance's participation in fairs & exhibitions, as well as our innovations and all other kind of news.
Numalliance's Newspage acts as a showcase of our history and development strategy. Our strategy is based on integrating complentarity, know-how, innovation and a global footprint to support our customers. 
Meet us at upcoming Trade Shows
Numalliance global presence guarantees our ability to be at a trade show near you, no matter where in the world your workplace is. We participe in more than 20 fairs and exhibitions every year and are more than happy to welcome you to visit us at any event you find us in.
Eaton Leonard - Addson McKee:
The great comeback with AddEaton by Numalliance
It has now been 6 months since Numalliance, through AddEaton by Numalliance, took over the assets (including the patents and the trademarks) of Addition Manufacturing Technologies group: Eaton Leonard, Addison McKee and Eagle.
 In 6 months, many customers have already trusted us while at the same time we have been able to work on numerous projects: 
Nearly 20 bending and forming machines have been redesigned, assembled and delivered: VB19, VB25, VB42, VB65, EB80, VB90, EG70, EG80, FM70, FM150, etc. In addition, we are redesigning the Tulip and Roboflex tube bending machines, to complete the AddEaton – Numalliance – Silfax – EMS range of bending and forming machines.
Just over 240 customers have placed orders with us for bending and forming tools, both for new programs and spare tools: our fleet of nearly 100 machines tools, spread over the European, American and Mexican sites, is available to meet your tooling needs.
And we are gearing up our range of services, so that we can support you in the maintenance and monitoring of your machine park throughout the world. Some Eaton Leonard and Addison McKee customer bending and forming machines have been retrofitted in the past weeks and are already back in production.
Nearly 100 highly skilled employees of the Addition Manufacturing Technologies Group have joined the AddEaton by Numalliance teams in Lebanon (Ohio – USA) and Querétaro (Mexico).
The expertise in tube bending, forming and wire bending of Numalliance group is represented worldwide, through our 15 plants and offices (France, USA, Mexico, China, Germany, India, Russia, Brazil, Slovakia and Romania). Wherever you are, we are close to you.
First of all, we hope that you and your loved ones are healthy.
Numalliance maintains its activities and services by adapting to the real-time situation and local government regulations applicable to our various sites around the world. Our primary goals are to take care of the health of our employees and yours while we continue our business. Many of our employees are working from home, we can therefore continue to answer your requests in shortest notice.
We are sure that solidarity and our individual sense of responsibility will enable us to fight this epidemic and maintain economic activity. We stay by your side, and will also be with you when the situation will get back to normal by offering ever more innovative solutions.
We wish you weel during this difficult times. Let's stay in touch !
Numalliance continues its growth:
The Numalliance Group, specialized in productivity solutions for wire, tube and flat stock forming, announces the creation, and acquisition of a new company. "AddEaton by Numalliance, Inc.", which consists of the assets of Addition Manufacturing Technologies in USA and Mexico. With this acquisition, the Addition employees historical know-how will be developed among with the long-standing experience of Numalliance's current workforce, in order to offer our customers cutting-edge solutions. Addition's patents, intellectual property and historical trademarks (Addison McKee, Eaton Leonard, Eagle) are included within the transaction.
AddEaton by Numalliance rounds up the product range proposed by Numalliance, resulting in a more complete product offering to the benefit of our customers in terms of tooling, bending, end forming, in the USA, Mexico and the entire world.
The Numalliance group pursues its growth strategy, using its 4 strategic pilars:
Customer Satisfaction, by developing and providing a strong global network to serve our customers;
Innovation, in order to give a competitive advantage to our customers through R&D and innovative products;
Complementarity, as demonstrated by this acquisition;
And Profitability, in order to ensure the sustainability of the company, and to secure employment for the future generation.
"With this acquisition, the Numalliance group continues to develop solutions to the benefits of its customer, by increasing its global footprint to be closer to its customer base, for tooling, service and machines", said Joël Etienne, President and Founder of the Numalliance Group.
Contact : Marion Etienne – metienne@numalliance.com
MIB HYDRO : New external growth transaction for Numalliance
February 2019 – NUMALLIANCE announces the acquisition of MIB HYDRO located in Le Chambon-Feugerolles (Saint-Etienne, 42).
MIB HYDRO, recognized player for the design and manufacture of hydraulic presses and production lines, will be able to benefit from the international influence of the group and open to new sectors and markets for export, while wanting to its customers service quality near their facilities. MIB HYDRO rounds up the product range proposed so far by the group and offers NUMALLIANCE the opportunity to reinforce its presence in the aerospace market and set foot into the composite industry.
"This acquisition, which followed that of EMS in 2015 – Alsatian company specialized in machines and tools to shape the end of tubes, and are fully in line with our development strategy and our desire to support our customers better" said Joël Etienne, President and Founder of NUMALLIANCE Group.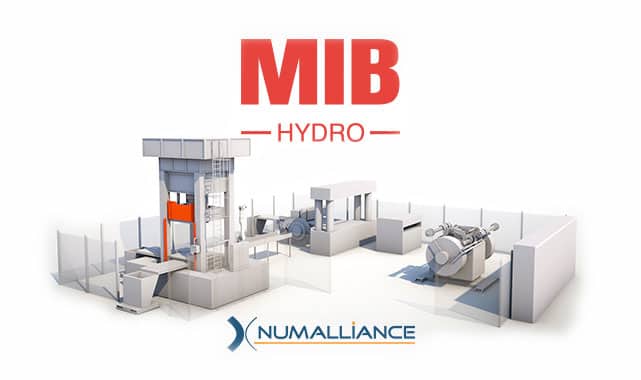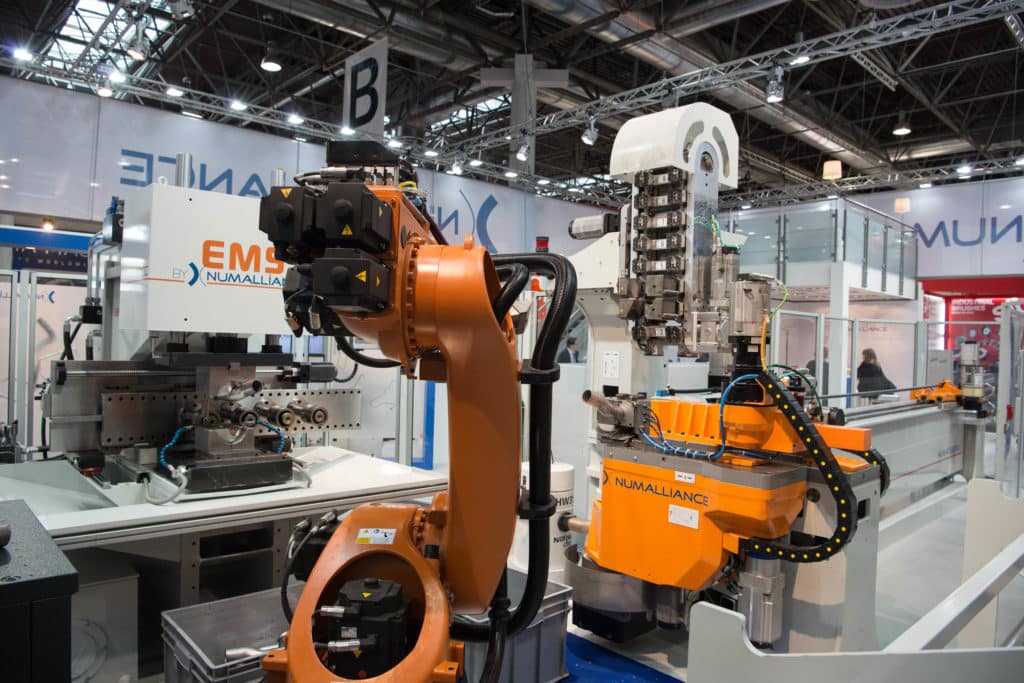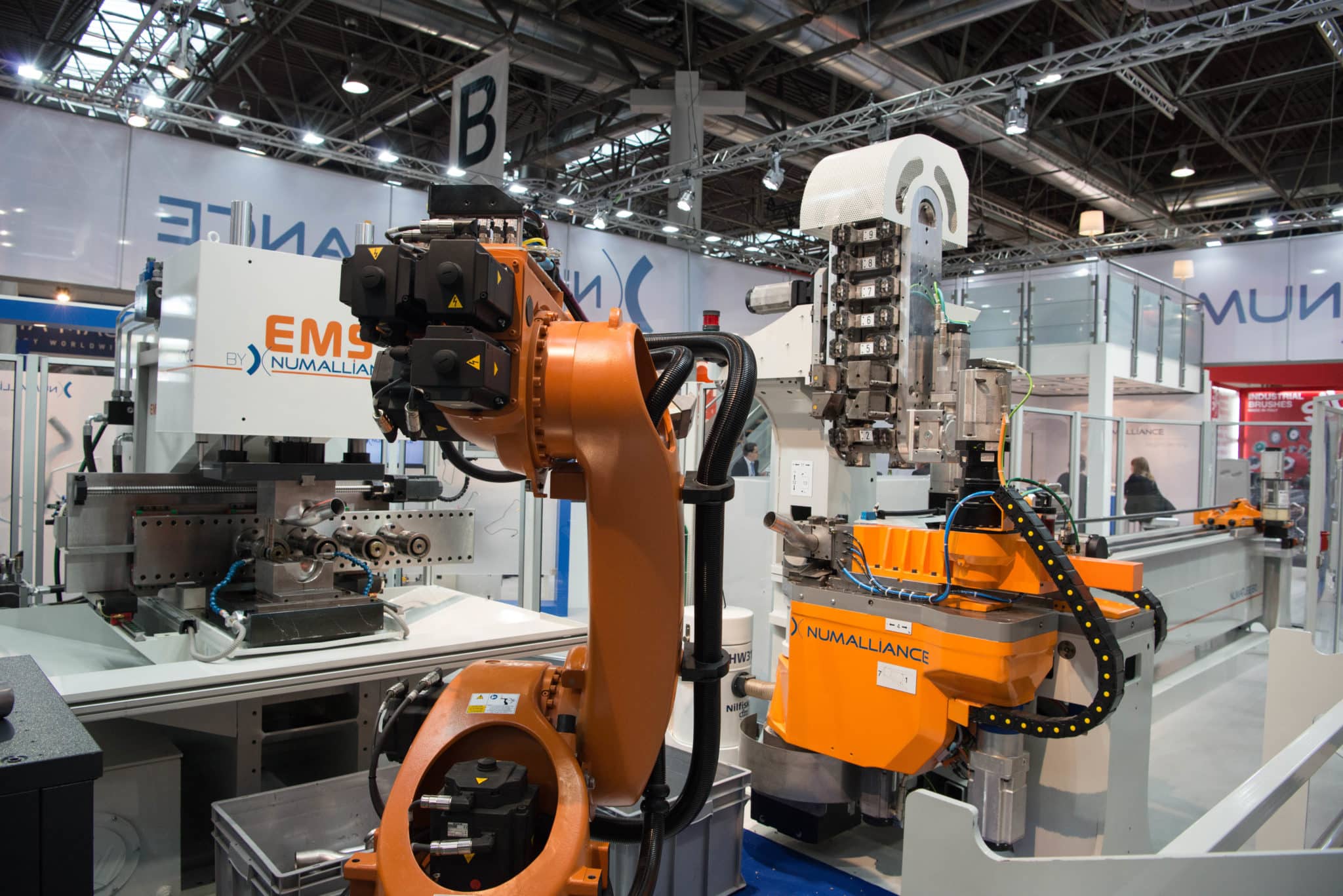 NUMALLIANCE continues its growth with the acquisition of E.M.S.
June 2015 – NUMALLIANCE announces the purchase of EMS, which specializes in the design and production of machines for chipless end-forming and rotary and blade cutting machines for tubes. With this new acquisition NUMALLIANCE extends its offering in the tube processing for various industries.
Established in 1949 near Strasbourg in Eastern France, EMS is a recognized player for tube end-forming, especially for automotive applications and fitting (heating systems and plumbing).
"With this acquisition, we keep extending our competences to offer our customers a global and fully-integrated answer to their needs with complementary and compatible products" said Joël ETIENNE, C.E.O. of NUMALLIANCE. "The addition of E.M.S. perfectly fits our company's dynamic motion and constant evolution. We set our business internal and external growth target high for the year to come", he added.
External growth transaction, SILFAX : NUMALLIANCE keeps the lead in wire and tube bending
October 2013 – NUMALLIANCE announces full acquisition of SILFAX, located near Lyon.
With the acquisition of SILFAX, one of the prominent names in the tube bending world, NUMALLIANCE enhances its product offering, and increases its visibility in the Air and Space Industries.
"Our customers will benefit from the cross-fertilization between SILFAX and NUMALLIANCE with more accurate and more innovative answers than ever" underlines Joël ETIENNE, NUMALLIANCE's President, stressing that "This new addition will make NUMALLIANCE even more attractive to young talents willing to integrate a dynamic and truly global industrial company"